To be an international hub for peace and diplomacy studies contributing to global peace through research, education, training and mediation.
»
Our mission is not to replicate the work of other international peace centres but to make a practical contribution to the promotion and maintenance of peace and stability within the region and beyond:...
»
Politically, the Republic of Seychelles is a small island state that is a friend of other nations and a threat to none; its neutrality is a key consideration.  Indeed, neutrality made possible a much-...
»
The subject of Peace Studies is as intriguing as it is important: it is about war as well as peace; it addresses terrorism along with national confrontations; it is an academic study but a...
»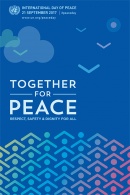 The Sir James Mancham International Centre for Peace Studies & Diplomacy (JMPC) at the University of Seychelles joins the rest of the world in observing the International Day of Peace on Thursday...
»
More news »
University of Seychelles, Anse Royale Campus
P.O. Box 1348