Speech of Maxim Behar, Chairman of the International Board of Trustees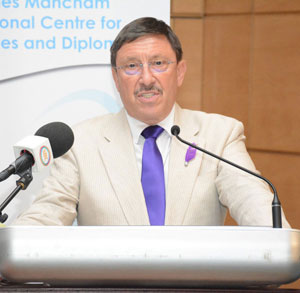 Your Excellencies, brothers and sisters,
Mon Kontan Sesel!
Today, August 11, 2017 is the day, on which if he was with us Our Founding President Sir James Mancham would celebrate his 78th Birthday.
On behalf of the International Board of Trustees I would like to thank all of you coming today to mark this significant date to pay respect to Sir James, to Jimmy or to Mr. Mankam and also to demonstrate your appreciation to what he had done for our country. The fact that all you are here is the best proof that his ideas of respect and reconciliation reached all of you, all of us, all Seychellois people.
In the International Board of Trustees, together with Honorable Vice Rector if the University of Seychelles Professor Denis Hardy and also with Mancham Family we invited very high profile international and local experts, people who know well Sir James, people who love Seychelles and people who will work hard for the prosperity of our nation. Trust me – we've made wonderful choice.
I would like in this very minute, at this important gathering, to express our deep Respect and Deep Appreciation for everything Sir James has done to this beautiful country, to all wonderful thoughts, visions and message he was spreading every single day of his life all over the world, for his amazing love and dedication to our beautiful country.
From Victoria to Brisbane, from Tokyo to Toronto, from Seoul to New York, from Johannesburg to Sofia and from Belgrade to Beijing… everywhere in the world Sir James was spreading the good word about Seychelles, about the peaceful and positive nation, about the great intelligent, positive, ambitious and hardworking people. He was more than ambassador, much more than envoy and more than a presenter – Sir James was a Global Institution of Peace, recognized by the most important people on the Globe – politicians, businessmen, diplomats, religious and spiritual leaders.
And today, on his Birthday, I would like to say big, big thanks and appreciation for everything our dear Seychellois fellow did to promote the beautiful smell of Peace, to promote our country.
Months before he left us to remain in the world of Eternity, together we were spending long days and nights discussing the idea of establishing International Center for Peace in Seychelles. It was meant to be an important instrument of promotion of Seychelles all over the world and it will be for sure.
We are a small country with no significant international globally known political project and now we have unique chance to create it and to have an important role on the political and diplomatic map of the world.
Many of you – my friends and fellow citizens, many people from abroad these days are asking me directly – What the Peace Center will do? Do I think Seychelles is too small and a too far located island country to attract and discuss serious international ideas and concepts? Isn't it nonsense to discuss Peace and Understanding while waves of refuges and storms of terror attacks are seen these days in many western capitals and big cities all over the world?
My answer clear and short.
Sir James Mancham International Centre for Peace Studies and Diplomacy will be a main point to cross theory with the practice. Just look at the web site of the Centre and you can easily see all planned activities – from conferences on peace and modern diplomacy in Victoria, up to presentations of Seychelles scientists, diplomats, students and lecturers all over the world on the topics of mutual understanding and cooperation.
And these are not just empty words!
We are really a small brave nation with an enormous amount of intelligent and well educated people, with enough experience how to solve all our conflicts with peace and how to win with arguments.
I hope in the next one year we will manage for sure to organize a big international conference on world peace and reconciliation and I already talked with two of my great friends, Director General of UNESCO Madame Irina Bokova and former Secretary General of United Nations Ban Ki Moon, who expressed great willingness to help and to speak at such event. As Jimmy was saying very often: "My dream is when people pronounce the name of our beautiful country to think clean tourism and preserved environment, and when diplomats all over the world say "Seychelles" to think about peace and reconciliation".
I just can add very modestly – in a country like Seychelles, with people like you, by brothers and sisters, it is easy to be achieved.
In all our activities we will rely on the help of the international institutions, foreign missions of Seychelles abroad, our Honorary Consuls and Honorary Consuls General, of course on the help of the foreign missions in Seychelles, and last – but definitely not least, even first – on the logistical and intellectual help of the Government of Seychelles, on the Department of Foreign Affairs and and personally on the attention of the President, His excellency Danny Faure, whom I specially thank for supporting this significant event.
Your Excellencies, dear friends, brothers and sisters,
My last meeting with Sir James was just a week before the tragic day of January 8 this year when he passed away. We were having a drink at the veranda in Mancham's House in Glacis and discussing the idea of the Peace Center when he looked at me and slowly said: "You know Max, whatever age you are, if you want to do good things, you just keep doing this, never ever stop…Just keep going, my friend, no matter what happens…."
And I just want to say here, in front of all of you – We will keep going, all of us. In benefit of Seychelles, because of Seychelles and for Seychelles – the country of Sir James Mancham, your country, my country. The one we love and will love forever.
God Bless You All!
Thank you!